May 2022 - 2nd Election Edition
Federal Election Campaign; LGBTIQA+ health and mental health; The religious discrimination bill; commentary on the election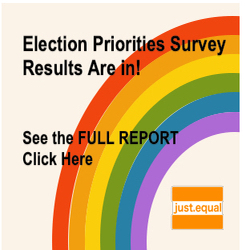 May 2022


 
  Welcome to the Election Issue of Just.Equal Australia's newsletter.
Federal Election Campaign
Thank you to those who participated in our survey of what the LGBTIQA+ communities want this election.  The Full Report 
can be viewed by clicking the graphic on the left.  For a summary of the findings click here. 
From the results, Just.Equal Australia developed questions that have been put to political parties.  To see our questions, and the responses from parties and candidates thus far, check out our Election Campaign page here.

L

GBTIQA+health and mental health
| | | |
| --- | --- | --- |
| |   | . |
The parties have all made funding commitments to improve LGBTIQA+ health and mental health.  To see the details, as collated by LGBTIQ+ Health Australia, the image or here
The Religious Discrimination Bill

 

The Morrison Government has promised to bring back its Religious Discrimination Bill if it is re-elected.  That legislation took away discrimination protections from LGBTIQA+ people.  Here is a reminder of who voted for that Bill, or parts of it, when it was last debated in February.  Click on the image to open up an enlarged version on our webpage.

 
Commentary on the Election
 

 

Just.Equal Australia board members, Rodney Croome and Brian Greig, have written about key LGBTIQA+ election issues.  Check out what they have to say by clicking the links below:
Making a Financial Donation
 

We are raising money for our campaigns, especially the return of the Religious Discrimination Bill.

 

Can you help?  If you can give just $10, $25 or more, please jump online and donate.

 
As we are a voluntary advocacy group, donations are not tax deductible. But we ask you to give generously because of the need, priority and urgency.
We really appreciate your ongoing support for the campaign work of Just.Equal Australia.
Together, we can stop the roll-back of LGBTIQA+ anti-discrimination laws and help enact stronger protections. 
Just.Equal Australia was established in 2016 as a national LGBTIQA+ advocacy and campaigning organisation.  Our board is made up of long-time advocates from around the nation.  We are committed to consulting with the LGBTIQA+ community and partnering with like-minded groups and communities.  We are committed to community-driven responses to discrimination.  For more about us:
Do you like this post?